I'm working with 30 people under me. I am not so much involved with customer projects anymore, though I am talking to customers about general stuff. I spend my time on marketing, processes and product development. We have a manager now, but that doesn't make me less of a manager.
Managing people has become a time – and energy consuming job as I need to switch my mind to several things during a day. It's harder for me to really focus on something without being distracted by thoughts  about projects that I have reacted to or need to react to. I wanted to change that, and I already found a solution that I want to share.
I have a workspace on Podio that only my PA and myself have access to. Here I have created a simple app listing all the projects (mostly internal) that I have initiated or I am involved in. Basically, it's the projects that I manage. Every time I add a new project or maybe a part of a project, I add it to this app. It's all projects gathered in one place. You can see a preview of how it looks below.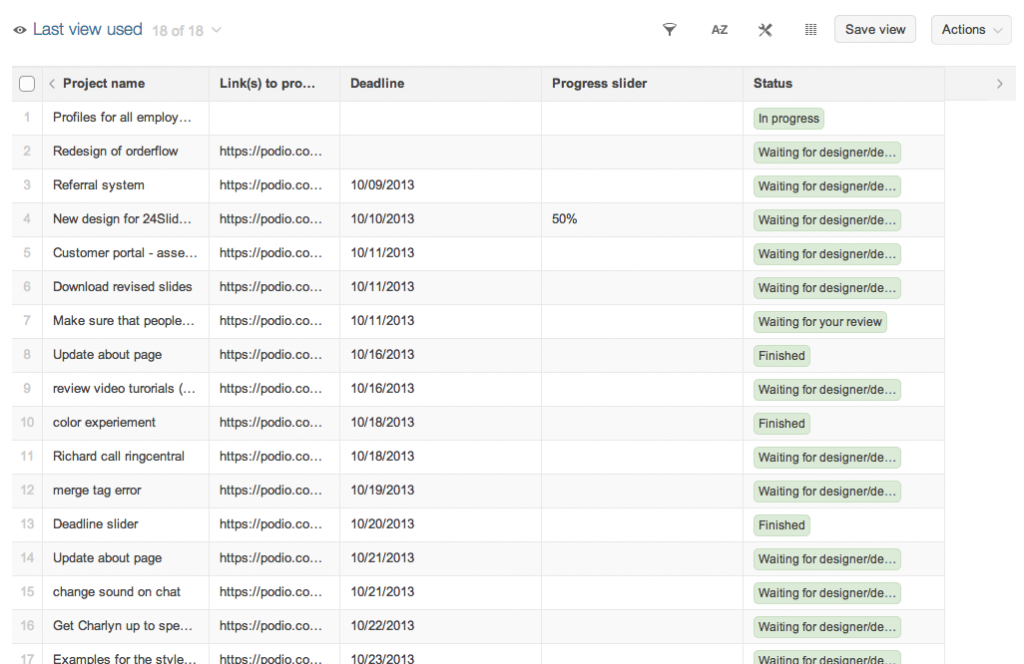 It's pretty simple. Each item includes a title, deadline, link to the project (which is always on Podio), and then the status of the project, which is either Finished, Waiting for my review, or Waiting for someone else. I've then assigned my PA to follow up on all the projects during the week, making sure that people are on time with the things, and if they need anything to me it, they will ask me. I'll then check minimum once a week in the app.
Why this works
I didn't expect that it would save me that much time before I actually tried it out. But it has actually blown me away how good this is. The time I save on not following up on people is just the tip of the iceberg. I found that the reason why this has such a huge impact, is because It's really hard to combine reactive work with proactive work. When I give feedback to people, it's reactive work. I am forced to think about a project and possibly make a decision. It takes a lot of caffeine to switch to proactive work after that. To be honest, most days it's impossible for me unless I take a big break.
For the same reason as above, I held back on adding more projects because I was scared to get overwhelmed. Now I have a one-stop shop where everything is gathered. I can now add a new project, and I know it will get done because I am no longer the bottleneck.